Data / Facts
L1 / Total length: 75-151mm
L2 / Working length: 40-100mm
Wood Drill Bits
TC wood twist drill bit TURBOWOOD
Carbide cutting tip
Patented, self-cutting centring tip
With carvers
Double chamfer
Ground shaft
Grey blasted surface
Especially suitable for hardwood
Recommended speed of 1400 to 3500 rpm, depending on material and hole diameter
In all rotary and percussion drilling machines
In machines for mechanical processing
Wood twist drill bit TURBOWOOD
Our TURBOWOOD raises the bar when it comes to drilling speediness. It is perfectly suitable for professional and industrial application due to its patented and self cutting centring tip, as well as its extremely sharply and precisely ground carbide plate.
due to carbide plate
The TURBOWOOD has a tip with a completely milled and sintered carbide plate. The tip had its geometry already before being inserted into the drill bit. It therefore guarantees long durability. The carbide plate is sharpened by a precise diamond grinding. A high and constant quality of the tip geometry can be assured.
Due to self-tapping centring point
The carbide plate has a patented self-cutting centering tip which, unlike other wood drills, provides feed after dipping into the material itself and does not slow down the drilling process.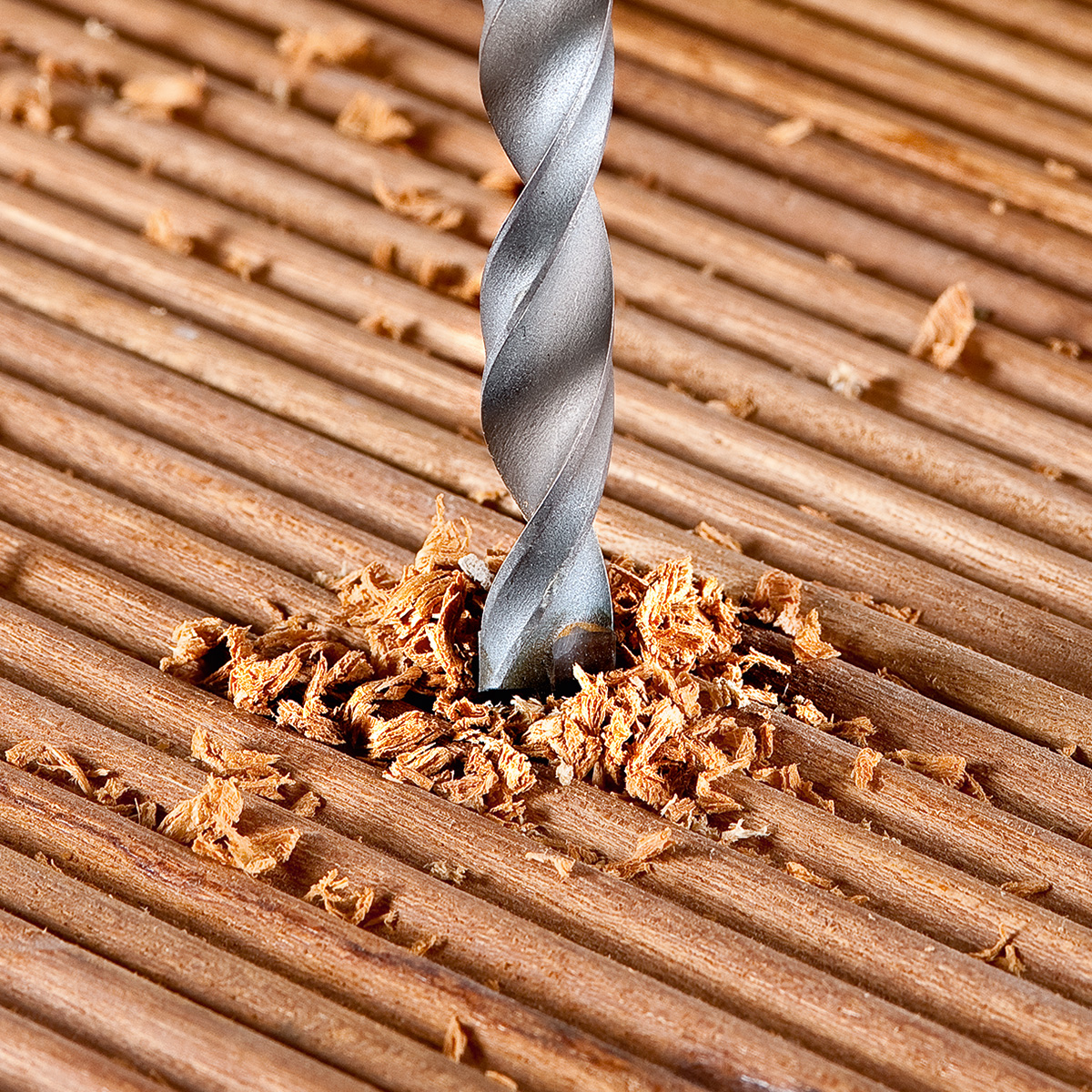 due to double chamfer
The double bevel on the spiral prevents the drill chips from "jamming" and provides better guidance in the borehole. The result is an exact and clean cylindrical drill hole even in hard wood.
Features
The KEIL TURBOWOOD drill bit is characterized by an extremely fast drilling progress, a long life and clean and precise holes. The discernible benefits of this tool set high standards, in particular when used in hardwood. This innovative manufacturing technique provides the TURBOWOOD with a wear resistance which allows prolonged use of this drill bit, even in bangkirai wood. Internal tests have demonstrated the clear superiority of the TURBOWOOD compared to common wood drill bits. For example, 100 holes in Bangkirai with a depth of 3 centimetres were drilled with this bit in a net drilling time of less than two seconds: Drill diameter 8 mm
Drill holes 100 holes
Hole depth 3 cm
Total hole depth 300 cm
Speed 2000 rpm
For use in / Application

Hardwood

Wood

PVC / Arcrylic
Drive / Execution / Features

Zylinderschaft